Share
Regular price
Sale price
$ 145.00
Unit price
per
Sale
Sold out
Shipping & Care

We want to ensure that our customers get what they want, a native backyard oasis. To do that, we need to follow a few simple guidelines and give you some information and pointers to make sure you get your plants delivered in a healthy state.

As a reminder, you will receive an email to confirm your pickup or shipping window just before the plants are ready. See Order Fulfillment below for seasonal fulfillment windows.

 

Choices to Receive Your Plants & Accessories

Retail - We only offer shipping & shipping is calculated at check out*

We do not offer retail pick up

Wholesale - Delivery is customized based on order size and location
Wholesale - Pickup is free

 

Order Fulfilment - When Your Plants or Other Items Will Be Ready

We take orders all year long and seed is shipped all year, but we only provide the plants to you in certain fulfillment windows to ensure healthy plants.

Wholesale Orders

Shipped or are Ready For Pick Up As Requested.

 

Retail & Website Orders

Seed Typically Ships Out Within One Week Of Order All Year Long
Typically, single species flats ship when ready, sometimes as soon as early to mid-April (depends on weather) through early-October.
Mixed species kits are batched and shipped as indicated on the product page.
If a plant order is placed while outside of the plant fulfillment window your plants will be reserved through your payment, however, the order will not be fulfilled and shipped until the following spring. We don't want to provide you plants when they won't be happy during the cold winter months. 
Early in the spring and later in the fall certain species may be dormant or partially dormant with brown leaves, however they will return to grow healthy next growing season.
Your order may arrive in several different shipments.
If certain plants within an order will not be available until a later date, we may choose to hold the full order until all are ready.  In certain circumstances, we may choose to send them in two separate shipments 
Fulfillment is always dependent upon plant availability.  We try our best but sometimes plants do not overwinter well and perish.  If a plant is on back order you will receive an email indicating the estimated shipping date.  If we can not provide the plant we will first notify you and give you an option of substitution or a refund of that individual species.
Plants are typically only packaged and shipped on Mondays to ensure they do not sit in the harsh delivery facility for extended periods of time over the weekend. You will receive a confirmation email once your delivery has been shipped and to estimate your delivery date.
Apparel & accessories are ready typically within one to two weeks. See product page for holiday shipping.

Where We Ship

 

 

What to Expect When Receiving Your Delivery

Your plants will be packaged with the utmost care
We will need to cut back certain plants prior to shipping. This seems counter-intuitive, however, the fewer leaves the less water the plants can lose during shipping, resulting in healthier plants for you. This also enables the plants to fit within the protective packaging and shipped safely.

 

 Shipments

Larger plant shipments will look similar to the picture below with a tray of your plants and a cardboard box to protect them during shipping.

 

 

What to Do With Your Plants After  Receiving Your Delivery

Unpack your order 

IMMEDIATELY
Inspect for damage and report any issues immediately to Natives@NaturalCommunities.net

Water your plants

Install your plants as quickly as possible and water the entire garden area thoroughly

If you cannot install your plants immediately

Some plants may not be in a container, put them into some kind of a container such as a paper cup with loose soil until installation

Make sure each plant is receiving the appropriate amount of light.

Continue to water daily each morning and possibly again in the afternoon

No additional fertilizer is needed
View full details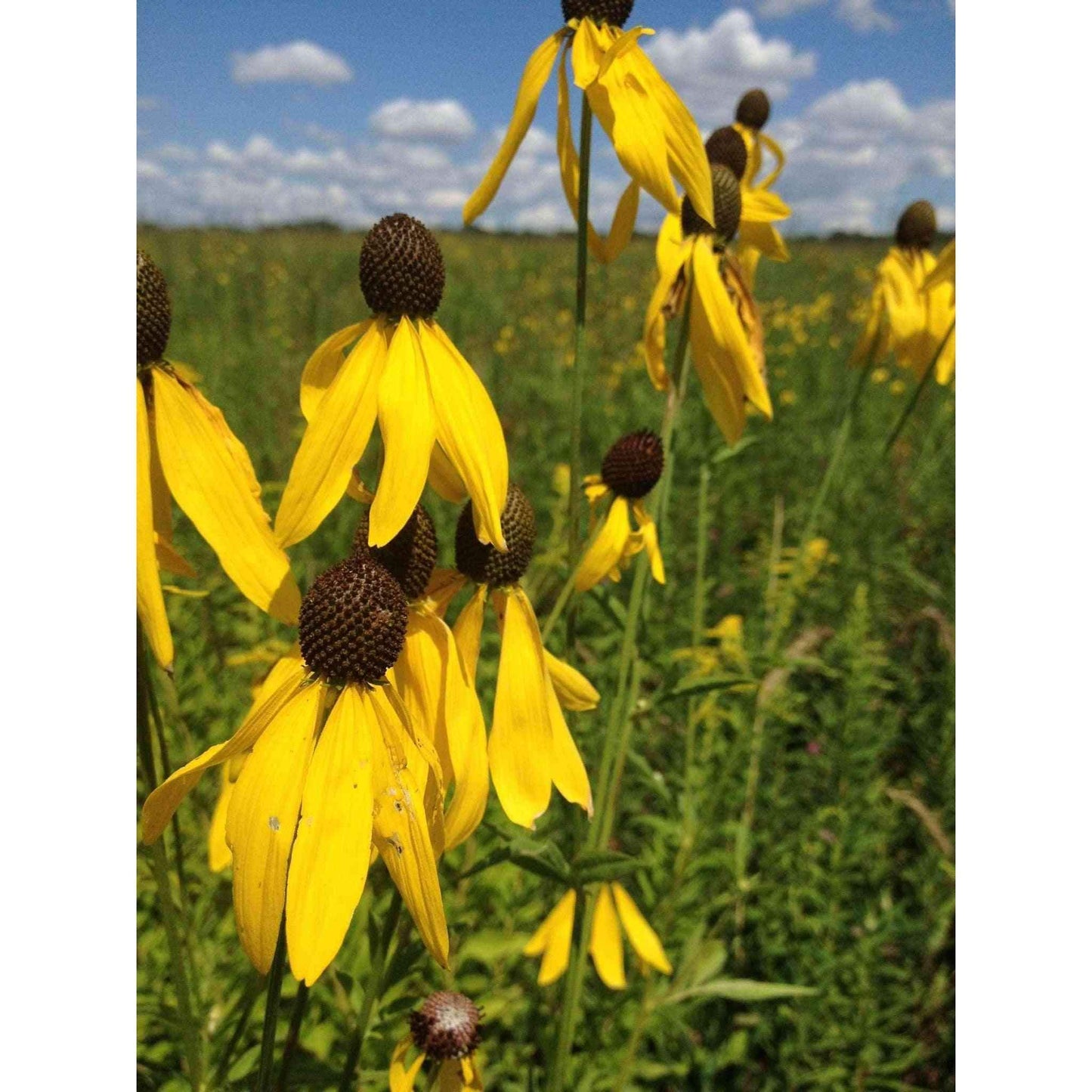 Easy to grow!
The yellow coneflowers from Natural Communities have taken well to one of the dryer parts of my yard. They are relatively tall and spindly so I like to plant them near other supportive plants.
Great,plugs, plants and trees
Bright yellow color in the garden, yellow finches love them.